For over 40 years the Kayapó Indigenous People have battled to protect their constitutionally enshrined rights to their forest territory as frontier settlements and resource extraction operations threatened their borders. The Kayapó reside in highly threatened primary forests in south eastern Amazon of Brazil - a key frontline in fight to restrain biodiversity loss and climate change.
In this study we explored the conditions that both enable and threaten the Kayapó's continued success in thwarting deforestation and we identified key strategies for continued protection and success.
We found that 21st century alliances forged between the Kayapó and conservation non-government organisations (NGOs) have enabled the protection of over 9 million hectares of their contiguous ratified territories.
Satellite analysis of Kayapó territory, between 2001 and 2019, revealed a significant correlation between the location of deforestation hotspots and the presence/absence of NGO investment with Kayapo communities.
Key to the success of the alliances has been the development of scalable resource management and income generation activities with Kayapó communities, and a strengthening of Kayapó territorial surveillance. These guard-posts give the Kayapó control over access, blocking illegal incursions, and is essential, in the absence of effective, or disinterested government enforcement, of Indigenous land rights.
Philanthropic investments into the Kayapó over the past two decades has made the difference between protection and rampant invasion and degradation of Kayapo territories. And conservation NGOs have  enabled Kayapó communities to set up their own Indigenous NGOs that are critical to build capacity for managing territories sustainably.
This book chapter is summarised in a policy brief (PDF) that is free to download.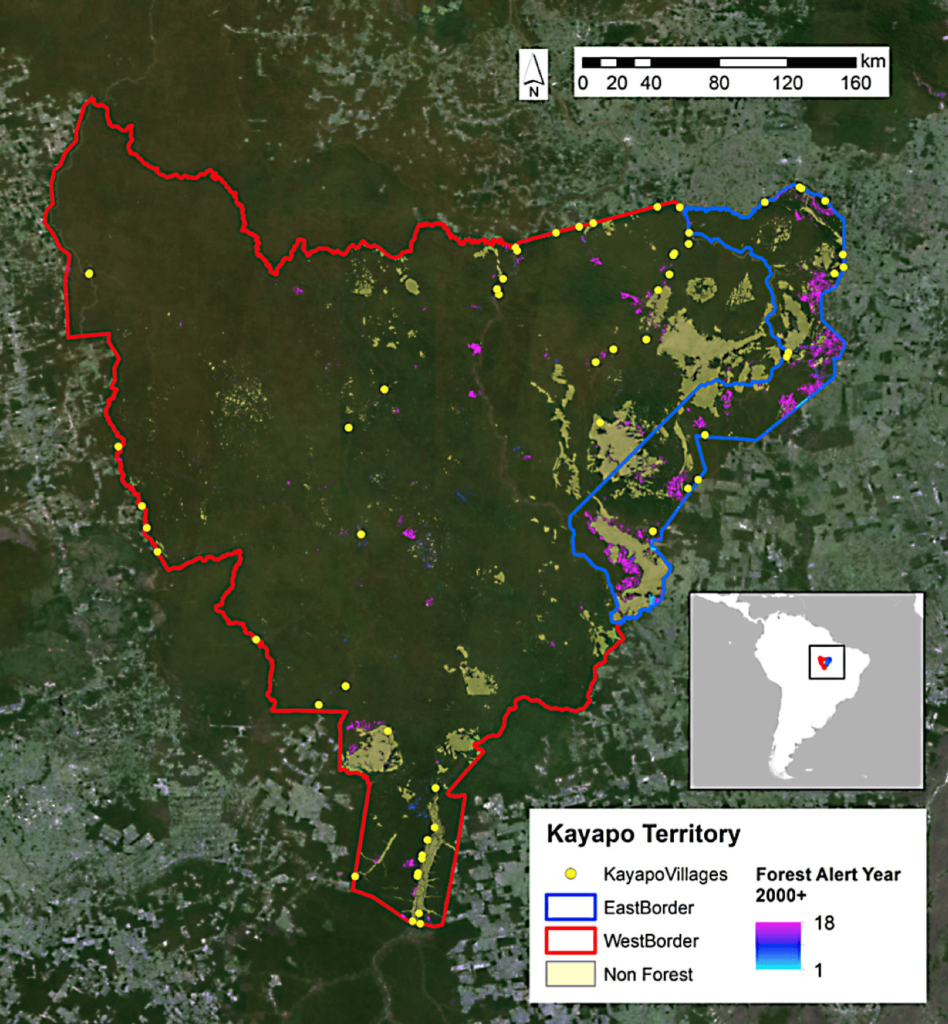 Satellite imagery showing the overlap between successful forest conservation from deforestation and Kayapó sovereign land.

Reference
Zimmerman, B., Schwartzman, S., Jerozolimski, A., Esllei, J., Santini, E., Hugh, S., 2020. Large Scale Forest Conservation With an Indigenous People in the Highly Threatened Southeastern Amazon of Brazil: The Kayapo. In: Goldstein, M.I., DellaSala, D.A. (Eds.), Encyclopedia of the World's Biomes, vol. 3. Elsevier, pp. 27–34. ISBN: 9780128160961
Request a copy of the article
If the download article link below doesn't work, or leads to a page that requests payment, please click the link to the author profile above and request a copy directly and they will be happy to assist. Not all reviewed journal articles are published as 'open access', which are free to download.