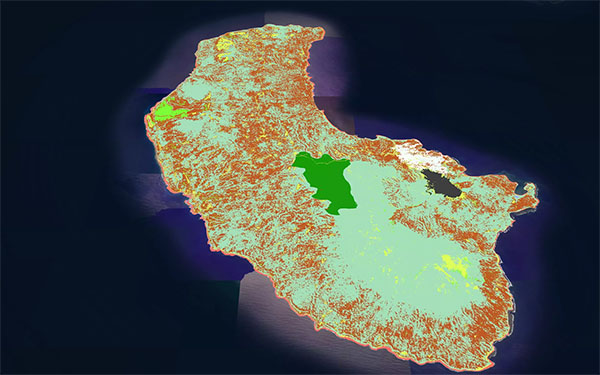 Data and information services
Our scientific research has been guided by influencing forest policy
The Primary Forests & Climate Program has pioneered improved identification and mapping of primary forests globally. It has developed an improved method that is able to identify remnant primary forest, in addition to much larger intact forest landscapes. These smaller remnant areas still provide significant ecosystem integrity and the resulting benefits. However, existing mapping often failed to identify these areas, risking further loss and degradation.
This improved mapping will support better forest landscape management by ensuring primary forest areas are accurately and fully mapped.
Example outputs are below.
Map showing forest maturity and its importance to water quality of forests on continental USA.
Data and information services publications
Forest stability is a key component of ecosystem integrity and primary forests. Current remote sensing products largely focus on deforestation rather than forest degradation, and depend on machine learning calibrated with extensive field measurements. To address this, we used MODIS time series to develop a novel approach for mapping forest stability across forest biomes.
Using remote sensing time series, we found increasing trends in fire and logging disturbances in primary forests of the Angara case study region. We also found large increases in fires closer to human settlements, roads, and logged sites.
This report has been prepared to review and assess definitions relating to primary forests; to collate and evaluate the datasets and methods currently available for measuring the extent of primary forests; and to provide options for defining, assessing and reporting on primary forests.